They are all market drivers that are currently causing major sector rotation. The various market sectors of the economy rotate in and out of favor throughout the business cycle. Here are some of my thoughts on the matter, I'm not 100% sure this is accurate and most likely not the whole picture, but this is how I see it.
The prospect of President-elect Trump's 'America first' future policies are pushing the industrial's, defense, and energy sectors up. The uncertainty of ObamaCare's future, and what the affordable care act will ultimately look like is pushing the healthcare sector down. Also, the increased potential of a stronger and more prosperous U.S. economy under a Trump administration will cause inflation to rise, which; in turn will force the Federal Reserve to raise interest rates more aggressively to keep inflation in check.
The recent OPEC oil production cap agreement is also driving energy up and to a lessor extent the industrial sector up. The Fed raising interest rates is driving the financial's up and REIT's down. Overall there are more up drivers than there are down, and with the overall increased economic optimism more money is coming into the market. With all these factors coming to a head – BOOM! You get a 300 points up day on the Dow index, and the market at all time highs!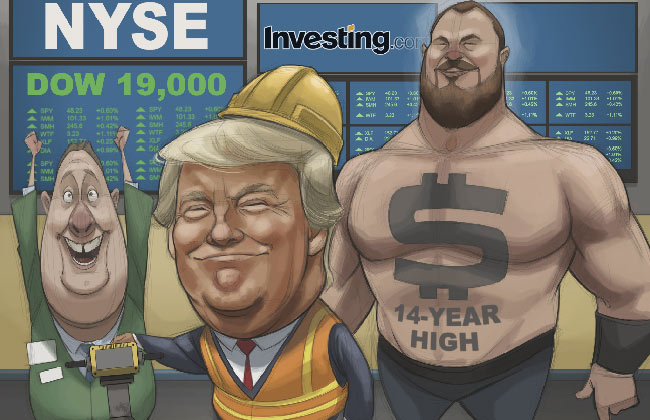 You might be wondering… How can the market change like this right now? I mean Trump isn't even in office yet, we don't know if the agreements made in the OPEC production limits will be kept, or what, when or how much the Fed will do with their monetary bucket of tools. It's simple really. It's because the stock market is extremely anticipatory; in fact, on average the stock market prices today are about 6 months forward thinking into the future. Who would have thought that the only place were time travel is a reality… yep, it's the stock market! No wonder there are so many people who say the stock market doesn't make sense. If only they new this little tip, well now you know!
When sectors make an aggressive rotation like they are now the important thing for long-term investors is to already have in place good diversification across all sectors. Personally I like to buy the best companies within a sector, when that sector is out of favor. Remember a year ago when the energy sector was in the dumps, well that was a good time to buy, because dividend yields were high and energy companies were selling at a discount to fair value. Now energy stocks are recovering and likely still have room to run. A year ago healthcare and REIT sectors were at highs and overpriced. I looked and looked, but there were no good safe deals to buy, so I didn't. Now they have dropped considerably and have quickly rotated out of favor, good deals are plentyful, so I have been adding to my healthcare and REIT positions.
It's not always easy to buy the out of favor sectors, I mean really where's the fun and excitement in that? Well, just remember what some of the most successful investors have said about that:
"Investing should be more like watching paint dry or watching grass grow. If you want excitement, take $800 and go to Las Vegas." -Paul Samuelson
"If investing is entertaining, if you're having fun, you're probably not making any money. Good investing is boring." -George Soros
"Beware the investment activity that produces applause; the great moves are usually greeted by yawns." – Warren Buffett
And since Trump is a current market driver…
"Experience taught me a few things. One is to listen to your gut, no matter how good something sounds on paper. The second is that you're generally better off sticking with what you know. And the third is that sometimes your best investments are the ones you don't make."   -Donald Trump
Comic credit: Investing.com

Filed in: Investment Principles • Stock Market