Good news for Dividend Geek members! When you are logged into your account you can now access Dividend Geek's trades and portfolio information, two new features located under the 'Member' button on the menu bar.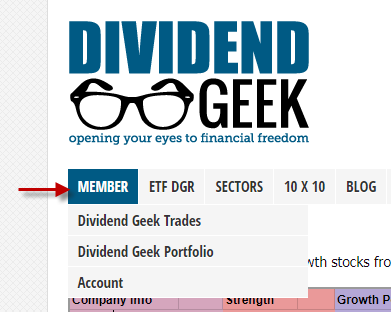 Dividend Geek Trades
The new 'Dividend Geek Trades' feature allow you access my latest trades and current open orders in real-time with complete transaction details, discount to fair value, and strategy for the trade. This includes when I plan to add to these positions based on prior resistance and support levels.
Dividend Geek Portfolios
Gives you access to view my portfolio spreadsheet that's updated daily including yield on cost and dividend growth performance, so you can see what it looks like to build a dividend growth stock portfolio.
If you do not have a Dividend Geek account, just click on the 'Join' button in the top right corner of the page. Membership is totally free and only takes a few seconds to sign up. There's no catch and you don't have to worry about getting spammed at most I might send out an email once a month.
Account
The is where you can view your account information, update your email address or change your password.
Feedback Wanted
I would love to know what you think about these two new features! Also, what's one thing you'd like me to cover in 2018? I plan to add more to the site and value your ideas and feedback that will help you the most. Feel free to email me at blaine@dividendgeek.com or post a comment.
All the best,

Filed in: Dividend Geek Portfolio • Dividend Growth Investing • Website Tools